Fifteen years ago today
Sunday, 28 April 2002
14.19: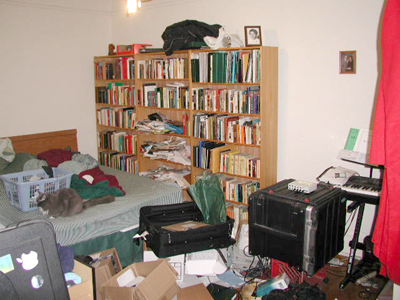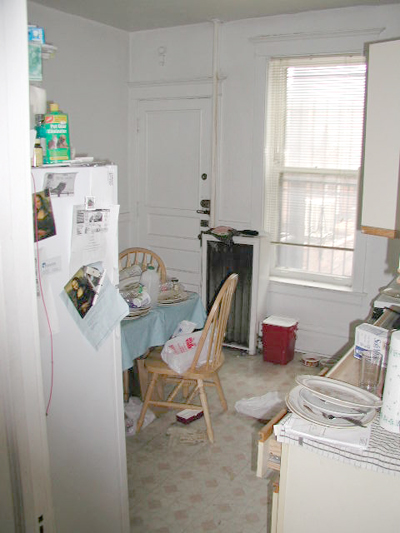 23.43: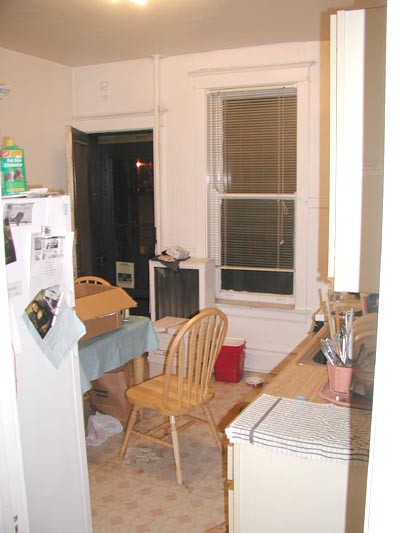 It may not seem like it, but progress is being made. Cats are moved already.
Sixteen years ago today
Saturday, 28 April 2001
Rehearsal today for Noye's Fludde. It's really weird being back in an orchestral situation and only having my music on the stand. For choral singing and most other gigs, what I've had showed me what was happening in ALL the parts, not just mine. There were a few rough spots, not too surprisingly, but I think that overall I did a passable job. Practice practice practice and the next rehearsal should do the job. What's really scary is how much the bass is left exposed through the piece. Yikes.
Random blast from the past
Monday, 22 January 2001
9.40: Yesterday afternoon's nap lead to an almost invincible insomnia last night. Finished reading Nick Hornby's About a Boy, an enjoyable read if you can get past the big point. Thankfully the initially obvious plot trajectory was not followed, although the reading was entertaining enough that even if it were, it would have still been a good read.
With all the staying up late, I then ended up sleeping later than I had originally planned. Oh well. I do at least still have time after work to pack basses and flute for the drummer auditions this evening.
23.50: Arrived early for auditions so I ended up spending half an hour in the starbucks next to the rehearsal studio. I don't know why I bother. I always end up annoyed and disappointed when I go to Starbucks (much like I do when I go to Guitar Center although Starbucks usually manages to take some of my money first). An employee sweeping the floors sang and danced as she did it and I think the music they had playing may well have been Marisa Monte (at the very least, it was something Brazilian).
Auditions went well, with both drummers clearly preferable over last week's drummer. We stayed after and discussed my concerns about the direction of Dream in Color. I'm hoping that what I'm asking for isn't outside the bounds of what Paul & George want to contribute.
During "Step Right Up" I tried something new for the flute part, playing a first octave F while vibrating something in my throat (the epiglottis most likely). It gives a wonderfully bizarre tone quality somewhere between rapid tonguing and vibrato. I'll try to get this recorded for the flute journal.
Talking on the phone with Marianne I felt compelled to read her some excerpts from T. S. Eliot's "Love Song of J. Alfred Prufrock," a truly masterful poem.
Almost forgot: In today's mail, a long-delayed Christmas present, a collection of obscure Duke Ellington ballads. More on this soon, once I've listened all the way through a few times.
Tuesday, 19 June 2012.
A long-delayed return to music diarizing. I'm currently in Tampa for the residency of my Creative Writing MFA. I brought along my banjo and found a piano so I've been able to get in some practice on banjo, piano and voice while I'm here. The big things I've been working on have been a piano and voice arrangement of "Nuages"and working out a bit more of "I Found Jesus" which now has its melody and chords a bit more defined (It's a I-vi-IV-V in Bb).
Sunday, 14 August 2011.
Second rehearsal of the gypsy jazz group. My endurance was a great deal better, although I was a bit behind in printing up charts. I'll have to spend some time on this before the next rehearsal. I'm feeling pretty good about my playing, although I want to be spending more time practicing.
Monday, 8 August 2011.
A new musical project. I auditioned for and was accepted by a nascent gypsy jazz group as their bass player. My finger is a bit sore from that much pizz playing after so long away from the instrument. I also found myself fatiguing well before the audition was over with my fast walking parts hard to keep up to tempo. Fortunately, a lot of manouche bass is a somewhat less demanding root-five kind of line.
Sunday, 16 January 2011.
Got a bunch of lyrics done on "You Took My Photograph" but I'm not done. Pulling out the rhyming dictionary has helped a bit. I'm actually finding it to be more of a book to creativity than I would have guessed. I do find myself wanting to rhyme "days" with "protease."
Saturday, 15 January 2011.
Nailed down the music for "You Took My Photograph." I had some really nice ideas that came to me while falling asleep last night, but I lost them. I did remember some Gospel-esque chord progressions which I did manage to approximate while working on the song. There's a nice shift between G and Bb in the tonality of the song.
Tuesday, 11 January 2011.
Nobody played their songs at this week's songwriting class. I guess it was a case of terminal shyness. Next week, I don't care: I'm playing my damn song. This week's song wasn't so good, but I have some ideas for where to go with next week's song and I think it's going to be pretty good, close to a keeper (especially if, as I hope, I can get some feedback on the song).
Monday, 10 January 2011.
Finished the song for tomorrow's class. I'm not really happy with the lyrics, but the melody's not bad (even if I couldn't remember how the short lines of the chorus were supposed to fit in). I did do a nice thing where there's a shift from Bb to D on the choruses. One of those great harmonic things I picked up from Gospel music.
Friday, 7 January 2011.
Ended up doing no evening practice, but I did write the first verse and chorus of my song for my songwriting class during a slow moment at work. I rather like what I'm doing with rhymes in that song, and I've got a clear view of where the song is going.
Thursday, 6 January 2011.
I had hoped to be able to squeeze in a bit of flute practice on Thursdays between work and my short story class at UCLA, but it appears that this is a hope in vain. I left the office at 5.30p and at 6.18 the bus hasn't gotten past the 405. I'm not sure I'll even be able to get dinner. I did get a bunch more song titles recorded, including digging into some of my old files for songs planned but never written for Techne and Worst Case Scenario. I need to create a file which will be my songwriting queue, perhaps in Evernote. I can also keep some notes on the songs and their potential ultimate destinations.
Wednesday, 5 January 2011.
A bit of freewriting at lunch, plus a handful of titles written down: "My Dark Brother," "Seven Years in the Desert," "I Call My Mom Jocasta," "Living in Hi-Fi," "Lime Green Spring," "Enthroned in Blue."
Did some scale work on the mandolin and tried to train my fingers to be able to play I-IV-V in A, although it's far from perfect.