Ten years ago today
Thursday, 18 June 2009
A bit of guitar practice in today. I worked through the first two examples in the blues guitar book that I have. The 2-7 stretch on the B7 chord is a bit rough, so I'm going over that, but the initial E shuffle was something I was able to get through alright. I also tried to play through "Salvation at a Discount" but found that I had forgotten the chords on the bridge and some of the words. I do also need to work on breath support while singing to keep from going flat.
Seventeen years ago today
Tuesday, 18 June 2002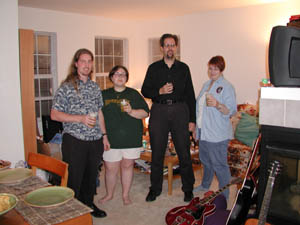 Trekked up to fellow CGT fan Sarah's place to meet Sandra, another CGT friend who I'd known only from e-mail. Also present was David, another CGT groupie. The evening was filled with guitar playing (much in NST), dinner, a touch of flute playing and some time learning some of the rudiments of guitar craft. The GC right hand strikes me as being a useful skill to acquire, but will take a lot of adjustment on my part.
Eighteen years ago today
Monday, 18 June 2001
11.24: Got pictures from the Futureworld gig loaded up.
Tonight I'll do the editing to turn one of the pics into the background image for the Gigs pages on the DiC web site.
DiC stuff might be a bit back burner until I get back from Kentucky.
13.20: The flow of incoming CDs continues. In today's mail, a well-packed package from England containing Jason Carter and Ragatal - Elements; Mr McFall's Chamber - Upstart Jugglers; Mr McFall's Chamber - Revolucionario!; Ambache Chamber Ensemble - Louise Farrenc - Chamber Music.
19.19: My left arm has been sore all day, leaving me unable to play bass so I've had to skip tonight's rehearsal. I hope it was just sleeping on it funny, otherwise tomorrow will be visit to the doctor time.
Random blast from the past
Wednesday, 9 January 2002

Tuesday, 19 June 2012.
A long-delayed return to music diarizing. I'm currently in Tampa for the residency of my Creative Writing MFA. I brought along my banjo and found a piano so I've been able to get in some practice on banjo, piano and voice while I'm here. The big things I've been working on have been a piano and voice arrangement of "Nuages"and working out a bit more of "I Found Jesus" which now has its melody and chords a bit more defined (It's a I-vi-IV-V in Bb).
Sunday, 14 August 2011.
Second rehearsal of the gypsy jazz group. My endurance was a great deal better, although I was a bit behind in printing up charts. I'll have to spend some time on this before the next rehearsal. I'm feeling pretty good about my playing, although I want to be spending more time practicing.
Monday, 8 August 2011.
A new musical project. I auditioned for and was accepted by a nascent gypsy jazz group as their bass player. My finger is a bit sore from that much pizz playing after so long away from the instrument. I also found myself fatiguing well before the audition was over with my fast walking parts hard to keep up to tempo. Fortunately, a lot of manouche bass is a somewhat less demanding root-five kind of line.
Sunday, 16 January 2011.
Got a bunch of lyrics done on "You Took My Photograph" but I'm not done. Pulling out the rhyming dictionary has helped a bit. I'm actually finding it to be more of a book to creativity than I would have guessed. I do find myself wanting to rhyme "days" with "protease."
Saturday, 15 January 2011.
Nailed down the music for "You Took My Photograph." I had some really nice ideas that came to me while falling asleep last night, but I lost them. I did remember some Gospel-esque chord progressions which I did manage to approximate while working on the song. There's a nice shift between G and Bb in the tonality of the song.
Tuesday, 11 January 2011.
Nobody played their songs at this week's songwriting class. I guess it was a case of terminal shyness. Next week, I don't care: I'm playing my damn song. This week's song wasn't so good, but I have some ideas for where to go with next week's song and I think it's going to be pretty good, close to a keeper (especially if, as I hope, I can get some feedback on the song).
Monday, 10 January 2011.
Finished the song for tomorrow's class. I'm not really happy with the lyrics, but the melody's not bad (even if I couldn't remember how the short lines of the chorus were supposed to fit in). I did do a nice thing where there's a shift from Bb to D on the choruses. One of those great harmonic things I picked up from Gospel music.
Friday, 7 January 2011.
Ended up doing no evening practice, but I did write the first verse and chorus of my song for my songwriting class during a slow moment at work. I rather like what I'm doing with rhymes in that song, and I've got a clear view of where the song is going.
Thursday, 6 January 2011.
I had hoped to be able to squeeze in a bit of flute practice on Thursdays between work and my short story class at UCLA, but it appears that this is a hope in vain. I left the office at 5.30p and at 6.18 the bus hasn't gotten past the 405. I'm not sure I'll even be able to get dinner. I did get a bunch more song titles recorded, including digging into some of my old files for songs planned but never written for Techne and Worst Case Scenario. I need to create a file which will be my songwriting queue, perhaps in Evernote. I can also keep some notes on the songs and their potential ultimate destinations.
Wednesday, 5 January 2011.
A bit of freewriting at lunch, plus a handful of titles written down: "My Dark Brother," "Seven Years in the Desert," "I Call My Mom Jocasta," "Living in Hi-Fi," "Lime Green Spring," "Enthroned in Blue."
Did some scale work on the mandolin and tried to train my fingers to be able to play I-IV-V in A, although it's far from perfect.